Kamata Campus
Located on the Kamata Campus are the School of Design and the School of Health Sciences. The School of Design has an art museum and a gallery, where students are exposed daily to up-to-date art and designs. The School of Health Sciences includes various facilities for medical and health care training. The Kamata Campus, situated near the heart of the Tokyo Metropolis, provides an environment ripe for study and training in these leading-edge subjects.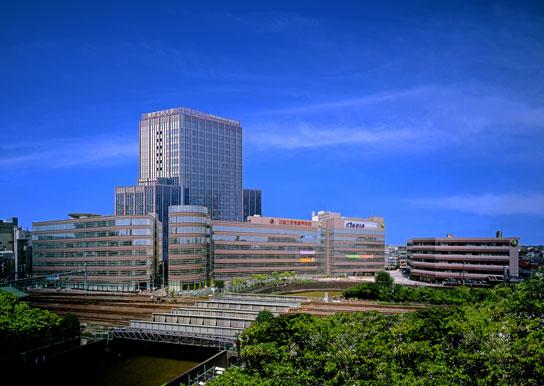 ■New Tower
This newly completed tower building, with 20 stories above ground and 1 story in the basement, epitomizes the vitality of Kamata.
■Sky View Garden
Commanding a panoramic view of the central Tokyo, from the Haneda Airport to Shinjuku, this roof-top garden is an ideal place to sit back and relax, undisturbed by the hustle and bustle of the big city.
■Entrance Hall
The spacious entrance hall symbolizes a door to the future.
■Lecture Theater
The lecture theater is furnished with a wide screen and offers an information outlet at every seat.
■Auditorium
The auditorium, seating about 550, is fully equipped with advanced facilities capable of hosting major international conventions.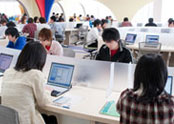 ■Internet Lounge
The wireless-enabled Internet Lounge offers a ubiquitous environment.
■Library
The library includes a spacious reading room.
■Central Plaza
This 11,000 m2 (2.7 acre) inner garden can host various campus events.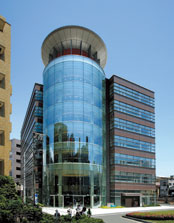 ■School of Health Sciences
This 7-story building houses facilities for training in the use of health care equipment as well as clinical training in nursing and therapy. Its barrier-free design symbolizes "normalization," a concept that normal society allows all people, regardless of any disability, to live together harmoniously in the same environment.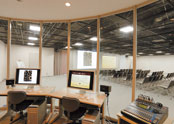 ■Presentation Hall
Equipped with large high-brightness screens and an impressive sound system, the spacious presentation hall allows students to give highly effective presentations.