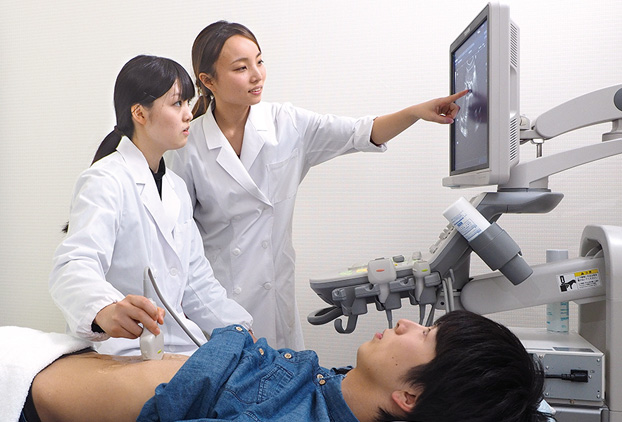 We foster human resources who not only possess knowledge and technology related to the clinical technology field, but who also can act independently considering trends concerning the medical technology field which is progressing every day, and who can contribute to medical care.
Although the most important aspect in medical care is"to consider the life of the person,"today's medical care cannot be achieved without medical devices, and relies on the application of advanced technology. With this in mind,"clinical technology"in our university means"advanced and diverse technologies that support medical care based on the maintenance and promotion of health, preventive medicine and medical diagnosis and treatment by physicians." We aim to produce highly trained professionals and researchers who have advanced and specialized knowledge / skills and leadership in the clinical technology field, and who can play an active part in responding to the diverse needs of society in the future.
Curriculum Policy
The Graduate School emphasizes practical education and research, which is the fundamental mission of our university, and contributes to the medical technology field in accordance with the needs of society and by paving the way in development. The Graduate School also organizes educational courses based on the basic policies described below and conducts lectures / exercises and research in order to provide education and research necessary in order for students to acquire the skills set forth in the Diploma Policy.
1
Based on the under graduate education, we aim to have students learn about culture and equip themselves with common sense as members of society, to know the position of medical technology in society and medical science, and to study human science, including behavioral science and medical safety. Based on these foundations, subjects are prepared regarding research methods, medical systems and management, medical safety management, medical communication technology, etc. as basic subjects for studying medical ethics.
2
In order to develop practical skills as advanced professionals in the pathofunction medical technology field and etiological analysis medical technology field, which are specialized fields, we aim to have students learn about the latest trends of each specialized field and conduct experimental investigations and research investigations on each research theme. Advanced subjects and seminars are prepared for the fields of clinical physiological function, clinical hematology, biometric information analysis, clinical analytical chemistry and infection control.
3
Seminars and research subjects in specialized fields are prepared in order for students to extract issues and develop their own plans to solve them based on scientific assessment / analysis in specialized fields, to discuss how to deal with the consistency of results and predictions, and to develop basic and necessary skills as researchers including research performance and the publication of papers.
4
We aim to develop students'skills as team leaders such as by obtaining knowledge regarding cutting edge medicine and clinical technology and health care systems, seeing things from multiple perspectives, and communicating smoothly with a wide range of people. In order to study the process of exchanging opinions and making decisions within a team, subjects are prepared relating to gene-related medical technology, specialized subjects in specialized fields, subjects related to medical communication technology, among others.
Features
Comprehensive Curriculum in the Medical Technology Field
Our curriculum not only includes subjects on specimen and physiological function testing, but also includes subjects related to infection and cancer in order to ensure the accuracy of gene-related tests toward practical application of genomic medicine, etc. We aim to have students understand the needs of society and to put our specialized knowledge and technology into practice in clinical sites.
Acquiring Practical Skills and a Broad Scope of Knowledge
We aim to have students obtain practical skills and a broad scope of knowledge not only through study in the medical technology field, but also in the field of cutting-edge medicine and clinical technology, communication skills, and in medical and social insurance systems, etc. We aim to develop students'skills to meet the needs of society and their ability to communicate smoothly with a wide range of people.
Faculty Members with Diverse Qualifications and Practical Experience
In clinical sites, it is important to work in cooperation with other medical staff, including physicians. In addition, the medical technology field, including physiological function testing, is closely related to clinical engineering. The faculty members in charge of the program consist not only of clinical technologists, but also of teachers who have qualifications and practical experience as physicians and clinical engineering technologists. This environment expands the range of education and research available to students, and facilitates the exchange of information among different occupations.
Faculty Profiles
SHIBASAKI Yoshikazu
Internal Medicine, Cell Biology
UMEDA Masaru
Public Health Administration, Maternal and Heaith

OKAZAKI Mitsuhiro
Clinical microbiology, Infection Control and Prevention

KURIHARA Yuriko
Clinical Chemistry
SAKURAI Susumu
Clinical Physiology, Echo-cardiology, Public Health

SASAKI Satoshi
Cells – targeting Analytical Chemistry, Astrobiology

SHINOHARA Kazuhiko
Gastrointestinal Surgery, Endoscopic Surgery, Medical Engineering, Ergonomics and Human Factor Engineering

SHIMIZU Jun
Neurology, Internal medicine, Neuromuscular pathology, Neuroimmunology

TANAKA Kohei
Medical device safety, Medical augmented reality support, Medical virtual reality education

TOSHIMA Junko
Endocytosis, Cell Physiology, Membrane traffic

NAEMURA Kiyoshi
Medical Engineering, Computer Aided Surgery, Biomechanics
NAKAGAWA Kazumi
Clinical neuropsychiatry, Psychophysiology, Occupational Mental Health
YOKOTA Yasuko
Infectious Immunity, Virology

HINATA Nae
Pathology, Pulmonary Fibrosis

HIROTA Masako
Clinical Laboratory Hematology, Clinical Lmmnology