Recent achievements of our research_7

Recent achievements of our research
A paper ' Fabrication of novel functional cell-plastic using polyvinyl alcohol: effects of cross-linking structure and mixing ratio of components on the mechanical and thermal properties ' appears in the peer-reviewed academic journal 'Global Challenges'
Assistant Professor Akihito NAKANISHI (School of Bioscience and Biotechnology)
Assistant Professor Kohei IRITANI (School of Engineering)
Assistant Professor Akihito NAKANISHI (School of Bioscience and Biotechnology) and Assistant Professor Kohei IRITANI (School of Engineering) participated in the Leading Research Program Unexplored Challenge 2050 promoted by NEDO. They are conducting research and development of 'Realization of lightweight material made of cell-plastics by using self-propagating resource', resulting that the research content appears in the peer-reviewed academic journal 'Global Challenges' (IF=4.306).
Journal: Global Challenges, 2100026, 2021
Title: Fabrication of novel functional cell-plastic using polyvinyl alcohol: effects of cross-linking structure and mixing ratio of components on the mechanical and thermal properties
Content: Investigation of factors affecting mechanical and physical properties for cell-plastic film composed of a mixture of green algal cell and polyvinyl alcohol.
Published: 27 June 2021
https://onlinelibrary.wiley.com/doi/full/10.1002/gch2.202100026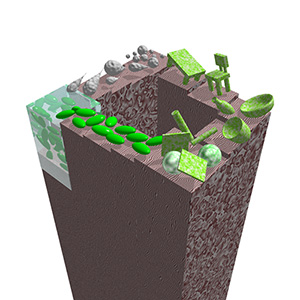 Feel free to contact us if you have any questions.