School of Media Science
Hachioji
About the School of Media Science
・Media Content Course
・Media Technology Course
・Social Media Course
A pioneer in media science that opens the way to the future with a solid foundation and advanced technology
The School of Media Science in Tokyo University of Technology was the first undergraduate school in Japan where students were able to study media in a systematical way, and is one of the few schools that offers such a course even today. The school provides innovative education and research through which students can enhance their expertise after acquiring basic media technologies ICT skills. Furthermore, the school continues to take on new challenges for cutting-edge media science based on AI, VR, and other new technologies. One of its great features is to help students acquire a valuable background and abilities that society will need as technological innovation progresses.
Features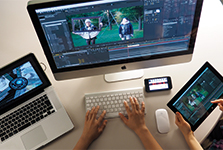 Ensuring that students learn about basic media technologies to broaden their future paths and possibilities
The school provides a systematical curriculum that ensures students learn about a wide range of basic media technologies first, and then has them move on to one of the three courses. The curriculum incorporates AI and other cutting-edge technologies. Students can decide on the content of their specialized research and career path while developing the ability to see things from multiple perspectives.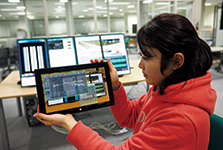 Through a wide variety of activities outside of university that broaden students'horizons, they will be able to understand society and the era in a comprehensive way
The school actively carries out international support and regional collaboration that utilize media technology, including collaborations with video production companies and leading artists and performers. It also offers special lectures given by experts who play active roles at the forefront of the media industry.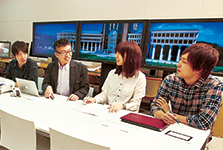 Students develop expertise and practical skills through extensive exercises, and acquire useful abilities in society
A wide variety of exercise subjects that are given in each school year will help students develop their creativity. In particular, the Project Exercise enables students to work on highly specialized themes in their first year, and helps them acquire advanced knowledge and information on technology, skills for communication and teamwork, and more.