School of Health Sciences
Kamata
About the School of Health Sciences
・Department of Rehabilitation
(Major of Physical Therapy / Major of Occupational Therapy / Major of Speech-Language-Hearing Therapy)
・Department of Nursing
・Department of Clinical Engineering
・Department of Medical Technology
Aiming to become a medical professional who can play an active role at the forefront of team medical care
In the field of medical care at present, thorough "team medical care" has been a pressing issue.Medical professionals are expected to be able to demonstrate their abilities, and need to have skills to cooperate in teams that are made up of different roles, in addition to possessing highly specialized expertise and practical skills.The School of Health Sciences develops advanced medical professionals who understand medical safety and state-of-the-art medical technologies, and who can work autonomously and collaborate with others at the forefront of health care.
Features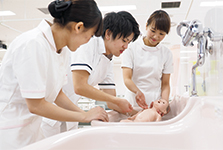 Detailed medical education that supports lifelong learning
We offer detailed education, guidance, and support through "3C" (Communication,Collaboration, Computer) skill education, and aim to foster an attitude to continue to learn even after graduation.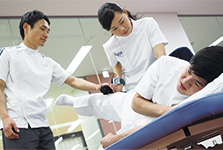 Exercises are performed on campus lab facilities that equal to actual hospitals.
The campus offers intensive care rooms, operating rooms, hospital ward nurse stations, and exercise rooms for learning routine operations, and enable students to practice using the latest facilities and equipment even at school.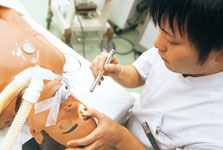 A perfect clinical practice environment through collaboration with cooperative hospitals and facilities
Although there is no affiliated hospital for the university, we have prepared an environment that offers a wide range of clinical practice activities in cooperation with many medical institutions. Students can join clinical practices at a wide variety of medical institutions to broaden their perspective, from general hospitals where research activities are widely implemented to specialized hospitals.