School of Health Sciences
Kamata
About the School of Health Sciences
In medical practice today, a coordination of various medical professions to offer the most appropriate care for patient needs, termed "team healthcare," is in urgent demand. In April 2014, the School of Health Sciences at Tokyo University of Technology added the new Department of Medical Technology to its existing Department of Nursing, Department of Physical Therapy, Department of Occupational Therapy, and Department of Clinical Engineering for a total of five departments designed to nurture advanced medical professionals who are both independently and cooperatively effective in the forefront of team healthcare.
Five Departments in Health Sciences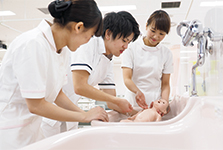 Department of Nursing
The primary objective of nursing is to support patients' lives and to encourage their "will to live." The Department of Nursing offers a curriculum with emphasis on practical study that enriches its students as people and equips them with the ability to make ethical clinical decisions, aiming to nurture individuals who can fill practical, leadership roles in health, medicine, and welfare. The department particularly highlights training in information and communications technologies (ICT), cultivating the skill to adapt to the rapidly increasing use of ICT in medical practice. Students are also taught patient-oriented team approaches by practicing on mock patients and attending classes that feature interdepartmental collaboration, so that they may accustom themselves to the next generation of nursing. In addition, the department offers on-site training at various medical institutions in order to train students in problem solving.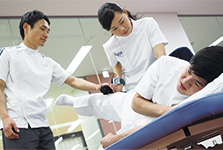 Department of Physical Therapy
In rehabilitation medicine, physical therapists use their expertise to help those who are physically impaired to recover their physical abilities and enjoy living active lives. In order to nurture practically capable physical therapists with the capacity to support team healthcare, the department puts emphasis on training the "3Cs" (communication, collaboration, and computer skills), and not only equips students with knowledge and skills in rehabilitation, but also encourages them to examine what people really need to lead fulfilling, high-quality lives from a physical therapy standpoint. To this end, the department offers a highly selective array of resources including experienced instructors who are well versed in technical expertise, advanced medical equipment, and accommodating classes that progress according to student comprehension. In addition, students are encouraged to develop their practical knowledge and skills through training at various clinical training institutions.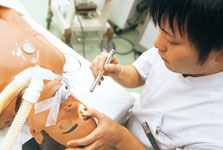 Department of Occupational Therapy
The role of occupational therapists is to support people with disorders to gain a positive outlook on life and develop or recover independence in daily living or the ability to work, such that they may lead meaningful lives. With Japan's aging population with fewer children, medical and welfare practices today call for occupational therapists to bring their technical expertise and ingenuity to healthcare teams, where they will demonstrate problem solving abilities that reflect a good understanding of patient and patient family needs. The Department of Occupational Therapy highlights on-site training backed by medical institutions and takes advantage of its university setting by offering classes that feature interdepartmental collaboration. By designing a curriculum that surpasses international education standards, the department aims to nurture individuals who will contribute to the further enhancement and development of rehabilitation services.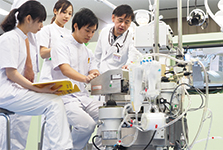 Department of Clinical Engineering
Clinical Engineers are specialists in medical equipment who are on the forefront of the medical practice, in charge of operating and maintaining life-support systems. As the only medical profession with expertise in both medicine and engineering, clinical engineers are becoming increasingly significant in current medical practices that rely heavily on innovative medical equipment. The Department of Clinical Engineering builds on the school's established education system for clinical engineers by taking advantage of the university setting to offer interdepartmental collaboration in education and research so as to nurture clinical engineers who will take on the future of advanced medical care. The department also offers the opportunity to develop practical skills in an exceptional hands-on environment with resources such as training rooms equipped with the latest medical equipment and clinical training at various medical institutions.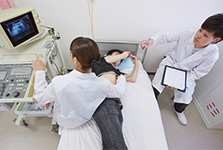 Department of Medical Technology
Medical technologists are specialists who analyze clinical data that is essential to detecting disease early, determining treatment procedures and tracking patient progress. In an age where medicine is becoming increasingly advanced and subdivided, medical technology is essential in facilitating team healthcare. The School of Health Sciences established the Department of Medical Technology in April 2014. In addition to training students in basic knowledge, the department offers lectures that reflect the ever-evolving field of medical technology with emphasis on training the "3Cs" (communication, collaboration, and computer skills) as well as collaborative learning with the other four departments. The department encourages students to develop their practical abilities in this kind of academic environment to nurture individuals who can make appropriate decisions in practice and promise to contribute to the development of medical technology as leaders in society.