School of Computer Science
Hachioji
About the School of Computer Science
・Artificial Intelligence Program
・Advanced Informatics Program
Receive new ICT education that looks ahead in the radically changing era
The progress of ICT has been dramatically changing society. We're heading into an era where engineers who are capable of not only responding to changes but also creating new needs and values will be highly valued and trusted,and who will become individuals that society will need. In order to nurture such human resources, the university has reformed its educational system, incorporating opinions from those in the industry. We have developed a new curriculum that links two kinds of education̶one that aims for research and development, and the other that aims for business development. The school provides innovative ICT education that can't be found anywhere else, based on two programs: the Artificial Intelligence Program and the Advanced Informatics Program.
Features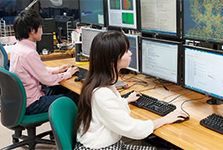 Two-program system: "Artificial Intelligence Program" and "Advanced Informatics Program"
The school adopts a two-program system. In the "Artificial Intelligence Program," students will learn how to create innovative businesses and services utilizing AI, and in the "Advanced Informatics Program," they will learn how to propose and develop systems that utilize a broad range of expertise and skills in ICT.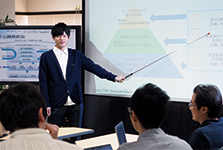 Students start learning the programming language "Python" in their first year term
Thanks to its simplicity and versatility, "Python" is being used more and more in development sites in recent years, and its excellent numerical calculations has made it the mainstream language in AI system development. Students will start learning programming that uses "Python" in their first year in both programs.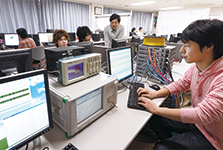 Study based on "Common Core Subjects" that cover the basics and practical "Exercises and Training"
The programs help cultivate skills necessary for engineers based on two pillars: "Common Core Subjects," where students will learn a wide range of ICT basics based on international standards for information education, and "Exercises and Training," where they will learn things like value creation in a practical way through Project Based Learning (PBL).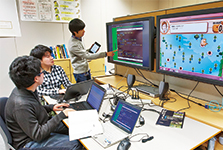 Providing a high-level environment where students can study and research while feeling a sense of unity with the Graduate School
Many of the laboratories that students belong to in the fourth and the second half of their third year also have graduate students, so they can take on the challenge of advanced research in the undergraduate program. There are systems that allow students to take subjects in graduate courses, and there's also the "Integrated Program for Completing Bachelor's and Master's Degrees in Shorter Years," in which students can complete their studies at both the Undergraduate and Graduate Schools in a total of five years.