School of Computer Science
Hachioji
About the School of Computer Science
The School of Computer Science offers systematic training in programming basics and its various applications. Starting April 2015, four new courses have been established to accommodate a more diverse range of technological fields.By equipping students with advanced information and communications technologies (ICT) that are essential for creating a comfortable future society, the department aims to nurture engineers who have the theoretical and practical expertise that society truly needs.
Four Courses in Computer Science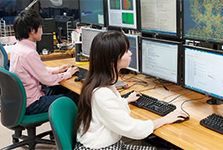 Computer Software Course
The Software Course teaches, through practical training, the knowledge and skills required for building next-generation computer systems and planning products based on latest technologies. Its main goal is to equip students with deep understanding of key information and communications technologies(ICT), so that they may play leadership roles in a wide range of industry upon graduation, not only computer industry but also various manufacturing industries.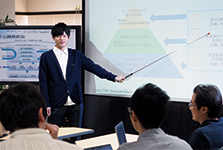 System Engineering Course
The System Engineering Course offers the latest in software development technology to help students gain the skills required to design and develop high quality systems that meet customer needs. By equipping students with hardware and software knowledge as well as the skill to integrate them effectively, the course nurtures individuals who can develop and manage a diverse range of computer systems.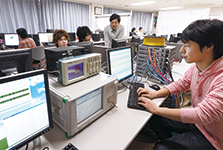 Network Course
The Network Course offers the study of information and communications technologies that facilitate the activities of individuals, corporations, and society as a whole. Its diverse range of subjects includes the basics of digital communication and the internet, as well as the latest technologies in broadband and mobile networking. Students may also aim for various qualifications, mainly but not limited to network related credentials.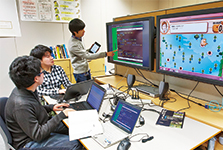 Applied Informatics Course
The Applied Informatics Course helps students acquire the ability to develop applied informatics systems that utilize computers to help enrich people's lives. By equipping students with diverse expertise in subjects such as game programming that dynamically impacts human sensibility, as well as artificial intelligence and sensory technologies, the course nurtures creatively minded engineers.