School of Bioscience and Biotechnology
Hachioji
About the School of Bioscience and Biotechnology
・Bioscience and Pharmaceutical Science Program
・Food and Cosmetic Science Program
Pursuing cutting-edge biotechnology to utilize the functions of living organisms and life in future society
Biotechnology explores the possibilities of the various functions of living organisms and life,and it's one of the fields that is attracting a significant amount of attention now.The School of Bioscience and Biotechnology helps students acquire basic and specialized knowledge and skills regarding biotechnology, which is becoming increasingly important,and also develops human resources who are capable of applying this knowledge and skills in a wide range of ways for people, society, the environment, and industries.
Features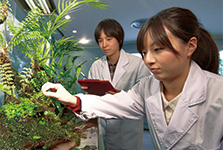 Education provided by faculty members who have excellent experience in industry and academic areas
By having faculty members who have a wide range of practical experience in each industry and other faculty members who have thorough knowledge of academic matters, the school has established a good balance of teaching staff.Students can learn about cutting-edge technologies in the real world, in addition to technologies that attract attention in academic meetings in each major field of study.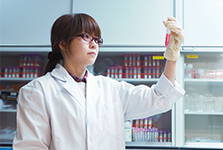 A unique support program for obtaining qualifications—students can take special courses to earn qualifications
The school provides thorough support for obtaining a broad range of qualifications so that students can prove their themselves after graduating or when job hunting. Courses for earning qualifications are provided inside the school.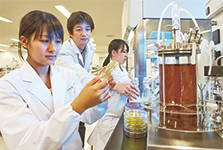 Cutting-edge facilities and equipment that support research
The school is equipped with all the necessary facilities for research activities which are available to students. In particular, the Bio-nanotechnology Center houses a large number of pieces of best-in-class equipment in the industry,including various types of analytical equipment and equipment for nano-level observation and processing.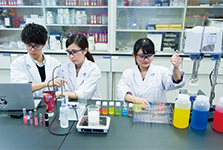 Two-program system that enables students to pursue higher levels of expertise
The school adopts a two-program system, which includes the "Bioscience and Pharmaceutical Science Program" and the "Food and Cosmetic Science Program." This system enables students to work on highly specialized studies from the very start to pursue a specific area. In turn, they can obtain a higher level of knowledge and skill.