About the School of Design
・Visual Design Program
・Industrial Design Program
Nurturing the ability to offer a wide range of design proposals that address diverse social issues with solid skills and strong sensibility
The School of Design offers two programs and four courses. From the time of admission,students are divided into the "Visual Design Program" and "Industrial Design Program" where they can concentrate on highly specialized studies. Students proceed with their studies centered on two key points: Nurturing "sensibility" that is a core of expressions and ideas, and learning practical "skills" that are necessary for creating designs. In specialized seminar classes, students will discover a wide range of problems present in the world and learn how to offer solutions for them in the form of design. In addition to design creation, the school aims to have students develop communication skills that adapt to the diverse needs of society in the future.
Features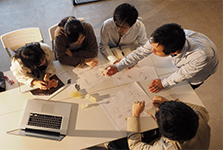 Studying design from scratch based on sensibility and skill exercises
"Sensibility," which is the foundation of ideas, and "skills," where digital expression is at the forefront.These two aspects are offered in basic seminars. Students learn what is necessary for creating designs from scratch.
Creating designs that respond to technological innovationsin the new era,including ICT (Information and Communications Technology)
In modern society, people and things are connected, various kinds of information is shared, and new values are created.In view of the world that will be expanded with new technologies, students will strengthen their design skills.
Design proposals to achieve a sustainable society
For the world we live in to continue in a better way,we will develop human resources that can offer ideas and plans that respond to diverse social issues.