HOME > Information > 2008 > Prof. Hiromi Ueda, Prof. Toshinori Tsuboi, and Prof. Hiroyuki Kasai at the School of Computer Science won the Best Paper Award at the IEEE CQR 2008

Prof. Hiromi Ueda, Prof. Toshinori Tsuboi, and Prof. Hiroyuki Kasai at the School of Computer Science won the Best Paper Award at the IEEE CQR 2008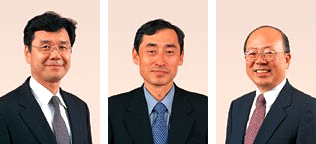 Hiromi Ueda, Toshinori Tsuboi and Hiroyuki Kasai, professors at the School of Computer Science, won the Best Paper Award at the Institute of Electrical and Electronics Engineers (IEEE) Communications Quality & Reliability (CQR) 2008, held in Carefree, Arizona, U.S.A. from April 29th to May 1st, 2008.
The award was given to the paper "Hitless Protection Switching Method for Passive Optical Network", joint research between Prof. Ueda, Prof. Tsuboi and Prof. Kasai. Mr Ueda gave a presentation of the paper at CQR 2008.
Based in the U.S., IEEE is the world's largest institute for electronics, communication and information. There are 69 international conferences of varying sizes held by the IEEE Communications Society, and CQR 2008 is regarded as one of 19 Major Conferences.
Left: Certificate of Best Paper Award
Right: Award ceremony [from left, Dr. Chen (IEEE CQR Chair), Prof. Ueda, Dr. Zuckerman (IEEE Communications Society President), Prof. Tsuboi]