School of Design Alumnus in SICF15 Art Festival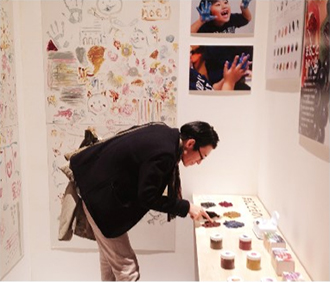 School of Design Alumnus Inohana Takamasa was recently selected to exhibit his graduation project Marugotoenogu ("As Is" Paints) in SICF15 (The 15th Spiral Independent Creators Festival), an art festival that aims to uncover, nurture, and support the creators of tomorrow. The festival was held May 2014 at Spiral Hall in Aoyama.
Marugotoenogu are paints made of dyes extracted from six different kinds of fruits and vegetables (purple cabbage, grape, spinach, beet, pomegranate, and onion), intended for use as hand and finger paints instead of with brushes. The colors are more susceptible to fading and change compared to normal paints, each with a distinct texture. The natural ingredients offer interesting and stimulating color changes, and one can also literally feel the differences in texture as one paints.
The exhibit at SICF15 provided an interactive space where visitors could use the paints freely, and many people enjoyed painting impromptu art with the Marugotoenogu.
Information on SICF15 can be found on the following websites:
■SICF Website
http://www.sicf.jp/#home
■School of Design Webpage
https://www.teu.ac.jp/gakubu/design/index.html