Screening at Short Film Festivals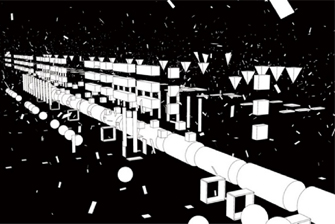 "Haisuinonasa/Dynamics of the Subway ," the short film by School of Design instructor Keita Onishi , has been selected to screen at two international short film festivals. The film is a music video created for the song "Dynamics of the Subway" by the rock band Haisuinonasa, in which animated geometric shapes synchronize with the movement and texture of each note of each instrument, visualizing both the music and a geometric "subway." It received the New Face Award at the 16th Japan Media Arts Festival in Japan, as well as the Best Music Video Award at the CutOut Fest 2013 , an animation festival held in Mexico.
May 23 – 19, 2014
To screen in the Animation Avantgarde competition at the Vienna Independent Shorts (VIS) Short Film Festival (Vienna, Austria).
June 18 – 22, 2014
To guest screen at the international animation festival Fest Anča (Žilina, Slovakia), a short film festival specializing in animation with sections such as the International Competition of Short Films and the International Competition of Music Videos.