HOME > Information > 2014 > School of Design Associate Professor Koichi Sakao presents town factory project in Ota City

School of Design Associate Professor Koichi Sakao presents town factory project in Ota City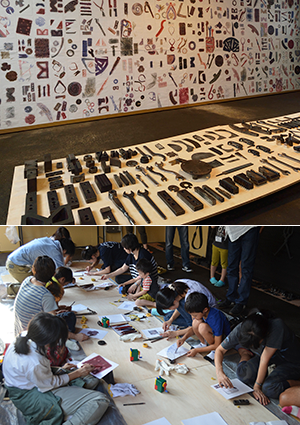 As part of his work with local communities, Associate Professor Koichi Sakao of the School of Design used the tools left behind in an abandoned town factory in Ota City to create and exhibit a new art project with the help of students and local residents.
The project uses a drawing technique called "frottage" to capture the tools left behind by factory workers on paper. Entitled "Ota no Kakera (Pieces of Ota)--Recreating the Treasures of Ota in Pieces," the project aims to introduce workshop participants and exhibit guests to the production history of the eight thousand town factories that once existed in Ota.
Workshops were held in September last year followed by an exhibit in October, and students participated as staff. The participants were fascinated with the unfamiliar tools that came in striking shapes, curious as to what they had been used for. In communication with the former factory workers, Associate Professor Sakao plans to continue this project as part of his research activity.
■Project Website (in Japanese)
http://www.sakao-lifeworks.com/otanokakera/