HOME > Information > 2014 > Work by Dean Ikeda of the School of Design included in Tokyo beautification project

Work by Dean Ikeda of the School of Design included in Tokyo beautification project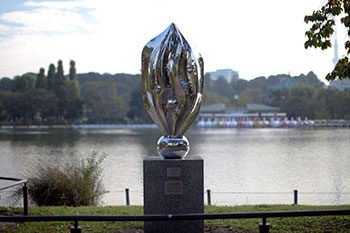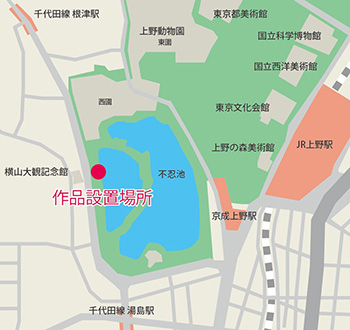 Tori Tachi no Jikan (Time for the Birds), by Dean Ikeda of the School of Design now stands alongside the path around the Shinobazu Pond of Ueno Park in Taito Ward.
The piece is an aluminum sculpture about a meter tall, with carvings of birds flying through the sky. Polished to a mirror finish, its surface reflects the surrounding scenery including the Shinobazu Pond, the sky, and trees, such that its appearance fluctuates according to the seasons and time of day.
The statue is located on the pathway on the west side of Shinobazu Pond, and that entire area is currently undergoing a landscaping beautification project to merge Tokyo's historical and modern features. The statue's backdrop includes the Shinobazu Pond, the forest of Ueno Park, Benten Shrine, and Tokyo Skytree. This scenery, along with the variety of wild birds that flock to the pond through the seasons, makes it a popular destination for walks, and tourists and locals alike visit now more than ever.
The nearest stations are JR Ueno Station, Keisei Ueno Station, Yushima Station on the Chiyoda Line, and Nezu Station.
■School of Design Website
https://www.teu.ac.jp/gakubu/design/index.html