HOME > Information > 2019 > Mixed Teams of Students, Professionals, and Amateurs Face a 48-Hour Game Development Challenge with over 40,000 Participants from 100 Countries in TUT's 11th Consecutive Global Game Jam

Mixed Teams of Students, Professionals, and Amateurs Face a 48-Hour Game Development Challenge with over 40,000 Participants from 100 Countries in TUT's 11th Consecutive Global Game Jam
 From January 31st (Fri) to February 2nd (Sun), the School of Media Science at the Tokyo University of Technology (Hachioji City, Tokyo) participated in Global Game Jam (GGJ) 2020, making this the school's 11th consecutive year of involvement. GGJ is a game development event held simultaneously in over 100 countries around the world. Registration was open until 2 AM on January 27th (Mon). The event was open for public viewing.
 GGJ gets teams of 6-8 people, comprised of students and developers (both amateur and professional), to each develop a game over two full days (48 hours) in line with the same theme announced worldwide at the start the event. GGJ has expanded annually since its conception in 2009, with a record number of 47,000 people from 113 countries and regions participating in 2019 at 860 venues, resulting in roughly 9,000 games. The event is listed in the Guinness Book of World Records for having the most participants in a single location for a game jam.
 In 2010, TUT became the first university in Japan to participate by having School of Media Science students develop games, operate the venue, and offer live streaming. The school also views the event as a part of its practical education program, where students can team up with professional developers to learn various aspects of the game development process such as planning, programming, design, and sound in a concentrated amount of time. Many of our student participants have gone on to work in game and related industries after graduation.
Comment from the instructor in charge (Professor Koji Mikami):
 "The Global Game Jam isn't a contest, but an opportunity for a challenge. It's practical education at its best—a chance to use the skills you've accumulated to work with professionals on your on-site team, alongside developers from all over the world on a single, common theme, and make discoveries that just aren't possible within a university class setting. TUT in particular is one of the largest GGJ hosting venues in Japan, with roughly 100 diverse participants attending each year including students, professionals, and overseas visitors."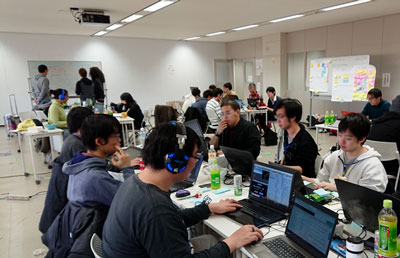 [Global Game Jam 2020 Tokyo University of Technology Venue Overview]
Date:
January 31 (Fri)
Opening ceremony/theme announcement (17:00~)
Game development (team introductions, planning presentations)
February 1 (Sat)
Game development (midway presentations)
February 2 (Sun)
Game development
Game presentations (17:00~)
Location:
Tokyo University of Technology Hachioji Campus
Katayanagi Advanced Research Laboratories
(1404-1 Katakura-cho, Hachioji-shi, Tokyo)

Details/To apply:
https://kokucheese.com/event/index/587633/ (registration open until 2 AM on January 27)
【Live streaming site】
Youtube Live!: https://www.youtube.com/channel/UColRSRxkyyDdq2qwSles5Bw
Twitch: https://www.twitch.tv/ggjtut
Facebook: https://www.facebook.com/GGJTUT/

■Event Contact:
Katayanagi Institute Publishing Department: Ohta
E-mail: ohta(at)stf.teu.ac.jp Tel:042-637-2109
*Please replace the (at) with an at sign.