HOME > Information > 2017 > Development of a novel Fc fusion technique to extend "the life-span of Biopharmateuticals" in the body without possible side effects

Development of a novel Fc fusion technique to extend "the life-span of Biopharmateuticals" in the body without possible side effects
Professor Atsushi Sato and colleagues in the School of Biosciences and Biotechnology are reporting development of a novel Fc fusion technique to stabilize biopharmateuticals in the body without enhancing immune responses. Their report appears in American Chemical Society's Molecular pharmaceutics (Vol. 14, p. 3025-3035, 2017) *.
Fusion of biopharmateuticals with the antibody Fc portion is a well-known strategy widely applied to prolong protein half-life in plasma. However, the Fc portion in fusion proteins can potentially induce immune responses to lead to possible side effects.
To overcome this issue observed for conventional Fc fusion technique, the researchers focused on the Fc hinge region of IgG which is essential for inducing immune responses. They found that conjugation of hinge-deficient Fc (CH2-CH3), a nonimmunostimulatory region of IgG, to biopharmateuticals improves their stability in vivo without eliciting immune responses potentially damaging for the target cells. Therefore, hinge-deficient Fc fusion is a promising advance toward the further development of powerful protein drugs.
The researchers have also succeeded in development of human lactoferrin / hinge-deficient Fc (CH2-CH3) fusion (hLF-CH2-CH3) as a therapeutic protein. They have already patented this fusion protein in Japan (Tokkyo 5855239 go) and Europe (EP2842969).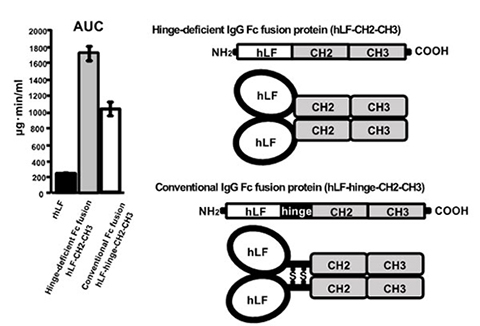 * The article is "Hinge-deficient IgG1 Fc fusion: Application to human lactoferrin" by Yuki Shiga, Daisuke Murata, Akinori Sugimoto, Yuta Oshima, Minoru Tada, Akiko Ishii-Watabe, Kenichiro Imai, Kentaro Tomii, Takashi Takeuchi, Shinji Kagaya, and Atsushi Sato. It appears in Molecular Pharmaceutics