HOME > Information > 2018 > School of Media Science Third Year Student Carlos Naranjo Interprets for Visiting President of Ecuador

School of Media Science Third Year Student Carlos Naranjo Interprets for Visiting President of Ecuador
In early September 2018, President Moreno from the Republic of Ecuador came to Japan for a diplomatic visit. Carlos Naranjo from Spain, a third year student in the School of Media Science (Shindo Lab) traveled to Kyoto for two days to serve as an accompanying interpreter for the President.
Ecuador is located in the northwestern part of South America, boasting the Galápagos Islands and the capital city of Quito, both of which are World Heritage Sites. The country is well known for its supreme quality chocolate and coffee beans, which are exported to countries as far as Japan. The purpose of the President of Ecuador's visit was to strengthen friendly relations between Japan and Ecuador, and both countries reaffirmed their intent to further develop ties. In particular, they discussed issues such as Ecuador's potential participation in the TPP, economic exchange of agricultural goods, and strengthening cooperation in scientific, technological and academic exchanges.
As a student studying at TUT under the Japanese Government Scholarship Program, Carlos is firmly invested in the diplomatic relations between Japan and Spanish-speaking countries. Through his meaningful role, Carlos not only contributed to Japanese society using what he has learned during his time in Japan, but also worked well to emphasize the TUT missions of fostering an international mindset and practical competence.
Comments from Carlos Naranjo:
I came to Japan thanks to the Japanese Government Scholarship Program, and I feel a strong sense of responsibility towards using Spanish, my native language, to help strengthen ties between Japan and Spanish-speaking countries. I was enthusiastic when the government of Ecuador asked for my assistance, and put in my very best effort to do whatever I could to make the visit a success.
Looking back on my experience, because there are vast cultural differences between Latino culture and Japanese culture, my role required seeking mutual understanding more than just interpreting words. It was a practical and valuable experience that will help me with my graduation thesis as well as what I hope to do beyond graduation.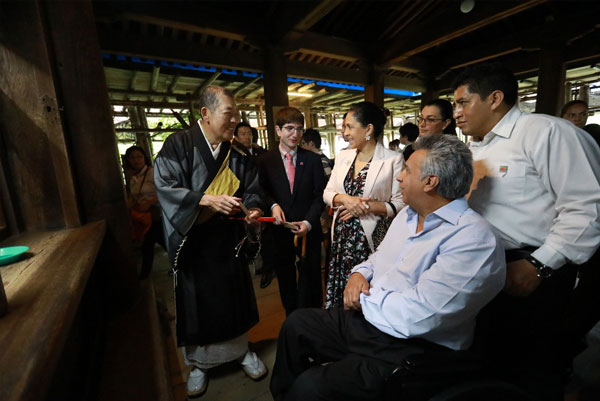 References:
Ministry of Foreign Affairs page on the President of the Republic of Ecuador's to Visit Japan:
https://www.mofa.go.jp/press/release/press4e_002145.html
Ministry of Foreign Affairs page on the Joint Statement concerning the visit of the President of the Republic of Ecuador, Mr. Lenín Moreno Garcés, to Japan:
https://www.mofa.go.jp/files/000396482.pdf
Nikkei Newspaper article on the President of Ecuador and the First Lady's State Call on Their Majesties the Emperor and Empress of Japan (in Japanese):
https://www.nikkei.com/article/DGXMZO35013490V00C18A9CR8000/