Project R Places Second at Kanto Spring Robocon
As part of the School of Engineering's strategic education program entitled the "Innovative Education Program Through Robot Development," Project R is run mainly by students from the Department of Mechanical Engineering. Its first year team entered the March 21st Kanto Spring Robocon (Robot Competition) and came in second.
The Kanto Spring Robocon is a rookie tournament for new university and five-year technology college students who also enter events such as the NHK Gakusei Robocon or the NHK Kosen Robocon. A team of six first year students who entered the School of Engineering in 2018 participated. Competing against 11 schools including Tokyo University, Waseda, the National Institute of Technology Sendai College's Natori Campus, and the National Institute of Technology Gunma College, the team's steady performance got them through the preliminary league in second place. They also continued to win matches in the finals, and ended up against Tokyo University in the final match. They almost got the best of the opposition but lost by a narrow margin, coming in second overall.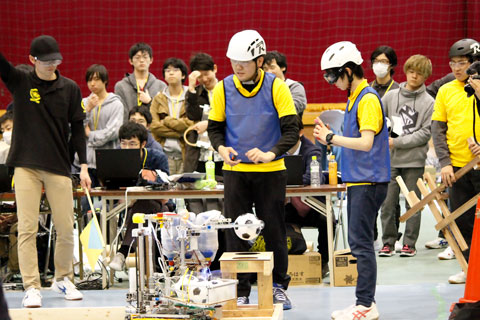 ■Kanto Spring Robocon website:
https://kantouharurobocon.web.fc2.com/index.html
■The student robocon project--Project R blog:
http://blog.robocon.teu.ac.jp/