HOME > Information > 2019 > School of Media Science Holds Cultural Exchange Session with the Management & Science University (MSU) from Malaysia

School of Media Science Holds Cultural Exchange Session with the Management & Science University (MSU) from Malaysia
 Twenty-three students and two instructors from the Management & Science University (MSU), a TUT partner school from Malaysia, visited our school on July 12 as a part of the MSU Global Leadership Program JAPAN TIME TO TRAVEL. This was their second visit, the first being in April of last year. MSU's proposal involved a tour of TUT, an introduction to the research and education offered at the School of Media Science and other TUT institutions, and a cultural exchange session between MSU and School of Media Science students. In particular, their biggest request was to have students of the MSU Faculty of Information Sciences & Engineering (FISE) introduce the Malaysian floral watercolour technique to our students. MSU has designated this activity towards SDG4: Quality Education.
On the day of the visit, our students were scheduled to attend an English lecture by Professor Sumi Katsuura from the Department of Liberal Arts, so the cultural exchange ended up happening during that English course.

Report from lecturer Professor Sumi Katsuura:
 An exchange between students from the Management & Science University (MSU) was planned for the second period English class on Friday, July 12.
A large portion of the students take English because it's mandatory, and don't consider why they should learn the language. Starting this year, first year English has been split into Practical English (PE) and Academic English (AE), with PE taught by a native English speaker to focus on improving speaking ability. However, the students don't usually have the opportunity to experience the result of their efforts. As such, the students were very fortunate to have the chance to interact with the MSU students. We used the second half of the Friday class the week before to begin by learning a bit about Malaysia. By coincidence, I had just been to Malaysia in late June for work, so I was able to talk about what it was like there.
The students are usually enthusiastic and cheerful in class, but they were very tense at the start of the exchange, perhaps because they were nervous. When MSU did a slide presentation on their school, the students hesitated to ask any questions.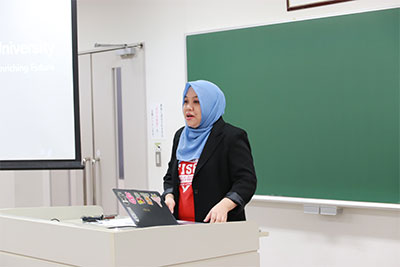 However, this changed when the Japanese students formed groups with MSU students for an activity to learn about Malaysian batik (wax resist dyeing). As soon as they actually started painting, the students were quick to mingle with ease, and had lively conversations with some help from Google and other tools. Interest in anime, games, and manga is truly universal! It was touching to see how animated conversations could be when the desire to share and understand was strong enough. That's the fundamental value of learning English, and it was a very worthwhile experience for me, as well.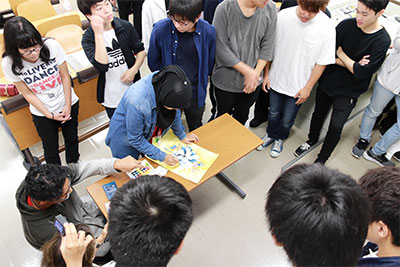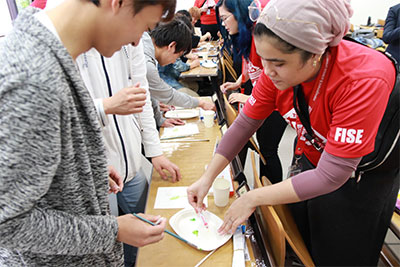 The chatting went on long after the activity was over. I'm sure that the cultural exchange with MSU will become an unforgettable TUT memory for these students. While so many learn English without particular consideration, I hope that the participants now realize what's really important in learning English as a Japanese person and communicating with people from overseas. I look forward to seeing how this motivates them in their future studies.