HOME > Information > 2023 > School of Media Science to participate in Global Game Jam for the 14th consecutive year

School of Media Science to participate in Global Game Jam for the 14th consecutive year
Unique initiatives including live program production and streaming
Forty-eight-hour game development challenge by teams of professionals, amateurs, and students

 The School of Media Science at Tokyo University of Technology (Hachioji City, Tokyo) is pleased to announce that its students will participate in the Global Game Jam (GGJ), a game development event to be held simultaneously in over 100 countries from Friday, February 3 to Sunday, February 5 (*1). General participation is free of charge and open until 24:00 on January 31.
 First held in 2009, GGJ is registered in the Guinness Book of World Records as the world's largest (*2) game development hackathon, where game development professionals, amateurs, and students form teams and work to develop a game to completion in 48 hours over a weekend under a common global theme. The school has been involved in game development education since 2004, and will have participated in GGJ for 14 consecutive years since 2010, when it became the first university in Japan to organize the event. The GGJ is a form of practical education that allows students to gain new learning and insights by experiencing the game development process from planning to programming, design, and sound in a short period of time with a variety of participants, and many students who participated in the program have gone on to work in the gaming and related industries after graduation.
 This year, the event will be held in an online format utilizing platforms such as Discord. In addition, as a unique initiative, a temporary studio will be set up on campus, and live programs will be produced and streamed (approximately 3 times) to introduce the development process.
[Summary of Global Game Jam 2023 at Tokyo University of Technology]
Summary of Global Game Jam 2023 at Tokyo University of Technology
Date: Friday, February 3, 6:00PM - Sunday, February 5, 5:00PM
Venue: Online (Tools: Zoom, Discord)
Registration/Details: https://globalgamejam.org/2023/jam-sites/tokyo-university-technology
Live streaming: https://www.youtube.com/c/GGJTUTChannel
(*1) Universal dates are January 30 - February 5. The format (online/in-person/hybrid) varies by venue.
(*2) In 2022, 680 venues in 100 countries and regions around the world, 33,000 participants, and 5,860 games were created.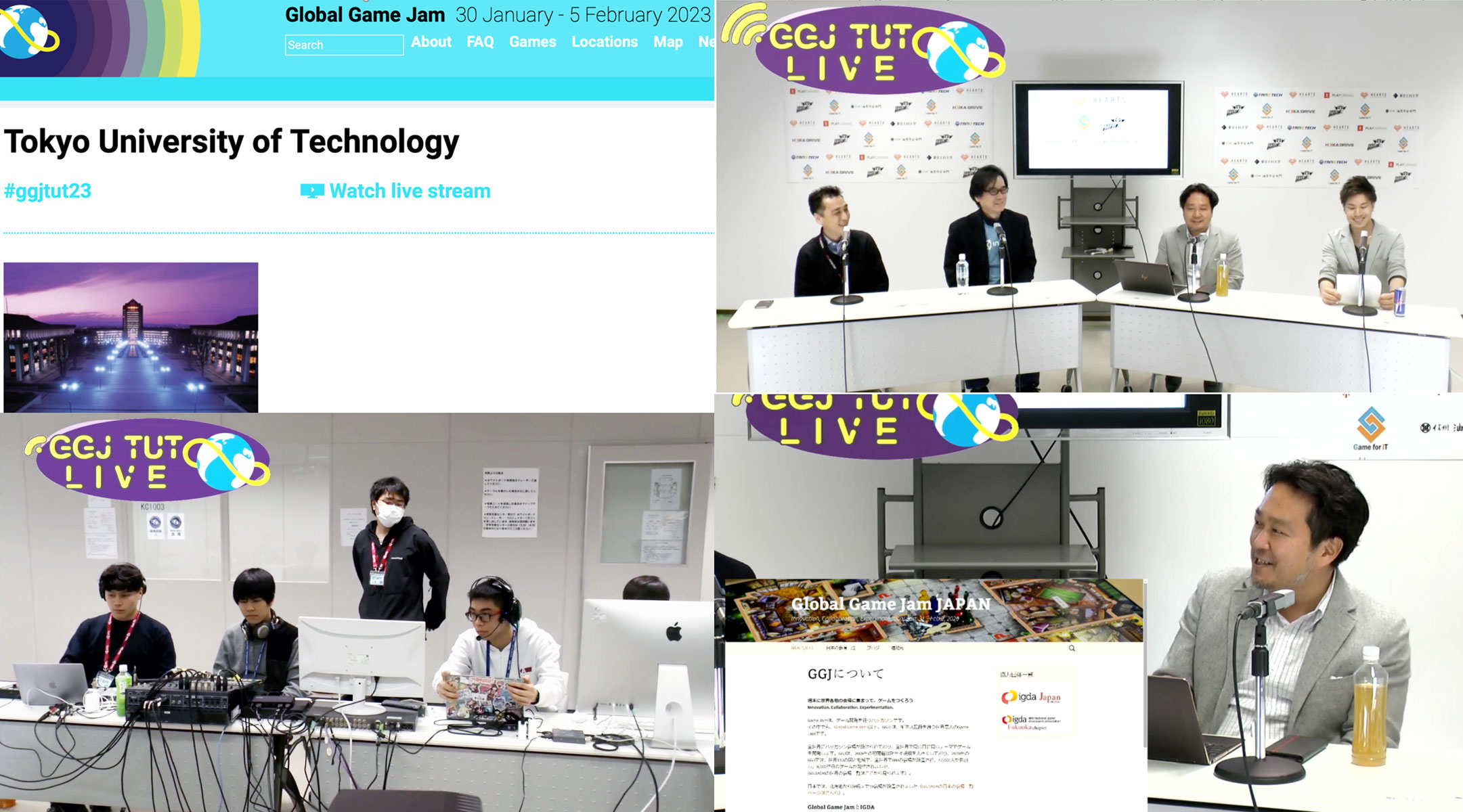 Live program stream (January 2020)